Since the publication of my first book in 1989, I have been visiting grammar and high schools, colleges and universities, businesses, museums and libraries to show slides and talk about the art and lives of the women in my books.
I focus, particularly, on the emotional and psychological connections between the artist and her imagery.
Using clear, simple language, I seek to demystify the creative process and in turn, support young people's own creative endeavors.
My talks, approximately one hour long and accompanied by slides, give a child not only an awareness and appreciation of the artists' work, but also an understanding of how's one's life and feelings can be expressed through visual imagery.
It is an opportunity for children to be validated in their creative expression by seeing how these inventive women, despite many obstacles, became successful.
My program is appropriate for grades 1–12. I can speak on one artist or many.
You can chose from: Georgia O'Keeffe, Frida Kahlo, Alice Neel, Faith Ringgold, Mary Cassatt, Leonora Carrington, Betye Saar, Mary Frank; and photographers: Imogen Cunningham, Dorothea Lange, Lola Alvarez Bravo, Carrie Mae Weems, Elsa Dorfman, and Cindy Sherman.
My talks have received excellent reviews:
"You have a unique ability to capture the essence of each artist in a way that is very understandable and meaningful."
Annabelle Ambrose
Head Librarian of The Park School
Brookline, MA

"Your choice of particular works of art captured the interest of the students and they wanted more!"
Karen Levy
Chair of the Creative Arts Committee
Wellesley, MA

"Your writing and presentations are as inspirational as the artists you have documented!"
Julie Bernson, Director of Education
Addison Gallery of American Art
Andover, MA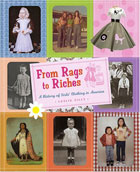 My lectures can be arranged for adults as well, and in particular, teachers and/or librarians.
New: I am now speaking, also, on the history of girls clothing. As in my most recent publication, From Rags to Riches: A History of Girls' Clothing in America (see Books), this slide presentation will include not only what girls' wore from colonial times to the present but also, how cloth was made, who sewed the clothes, how clothing was distributed, and why women and girls wore what they did.
For fees and more information, please email Leslie Sills.