Leslie Sills' books are in over 4,000 libraries throughout the world, in:
The United States (including Hawaii and Alaska)
Canada
Australia
New Zealand
Singapore
South Africa
United Arab Emirates
Egypt
Lebanon
Greece
Switzerland
Germany
Spain
The United Kingdom
FROM RAGS TO RICHES: A HISTORY OF GIRLS' CLOTHING IN AMERICA
By Leslie Sills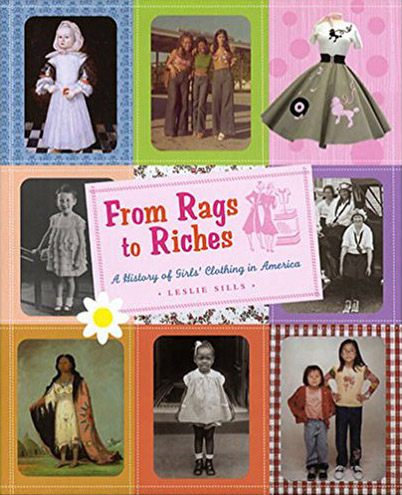 This book includes more than sixty pictures and photographs, a glossary, index, bibliography, webography, and lists of museums with costume collections.

Illustrated in full color.

Published by Holiday House in 2005.


Who thought up bloomers? Why were two year old girls forced to stand tall with the help of wooden or whalebone stays? How did fashions such as voluminous leg-o'-mutton sleeves or incredibly wide hoopskirts catch on? From corsets and bustles to blue jeans and bellbottoms, Leslie Sills, an acclaimed author of art books for children, takes a thoughtful look at what American girls have been wearing from Colonial times to the present. Through pictures and a lively text, Sills presents practical as well as outrageous garments, how clothes were made, the people who made them, and how fashion was marketed to women.
Purchase from Amazon.com
"...Here's a handsome, well-organized and inviting introduction to an aspect of American social history that touches on class, education, career choices and the evolving production of textiles and clothing."
—
The New York Times Book Review
"…well blended cultural, economic, and historic aspects…as well as the pop culture references. The fabric swatches, the explanations, the paintings and photos…everything is so well placed that it keeps me turning the pages."
— Vicki Palmquist,
Children's Literature Network
"The sparkling design of this overview makes this a pleasure to page through…A marvelous collection of paintings and photographs…A terrific roundup of resources…
—
Booklist
"Young female readers will be delighted with photos of Lucia, who designed her own dress, and astounded at how late the idea of females wearing pants came along."
—
Kirkus Reviews
Winner of the 2006 Oppenheim Toy Portfolio Award
From Rags to Riches: A History of Girls' Clothing in America
was featured the children's catalogue of The Metropolitan Museum of Art called
MetKids
, page 20 in a section titled "MetKids Create Fashion".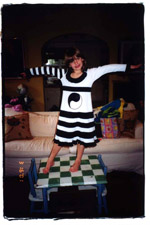 IN REAL LIFE: SIX WOMEN PHOTOGRAPHERS
By Leslie Sills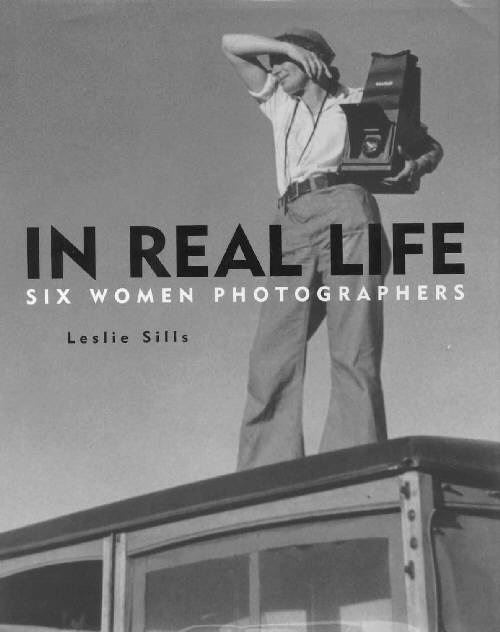 An exploration of the lives and work of Imogen Cunningham, Dorothea Lange, Lola Alvarez Bravo, Carrie Mae Weems, Elsa Dorfman, and Cindy Sherman

Published by Holiday House, 2000

From the Introduction:
"Learning about the work of these artists, one will see that photographs are not straightforward reflections of real life. Cameras do copy what is in front of the lens, and so, in that sense, photographs show what is real. They are simultaneously, however, creations of the artist's intentions and unconscious mind."
"Much more than just a biographical resource, this outstanding volume will help give young people the confidence to approach not only photography but also all the visual arts."
—
Booklist,
Starred Review
"Her insights make it impossible to remain indifferent to these stirring, joyful, haunting images·Once again, she is not only going to draw strong immediate reactions from young readers, but provide food for longer thought, and deeper responses, to modern art."
—
Kirkus Reviews
"This volume, with its thoughtful analyses of the work of six diverse individuals, will get readers thinking about the photos they encounter in magazines, on museum walls, and pasted into albums."
—
The Horn Book
"Supported throughout by well-chosen selections of each woman's work, this attractive volume may inspire a new generation to take up the camera."
—
Publishers Weekly
Booklist
Best Ten Art Books for Children in 2000
On The New York Public Library recommended list: "One Hundred Titles for Reading and Sharing"
VISIONS: STORIES ABOUT WOMEN ARTISTS
By Leslie Sills

The unique visions of Mary Cassatt, Leonora Carrington, Betye Saar, and Mary Frank

Published by Albert Whitman & Co., 1993

"Written with clarity, simplicity, and insight."
—
School Library Journal
, Starred Review
"For each (artist), Sills presents the concerns and experiences of her life as they shape, inform, and enrich her art, discussing its meaning, style, and techniques with unusual grace and intelligence."
—
Kirkus Reviews
, Starred Review
"Sills once again brings women artists to the fore, smoothly melding information about their personal histories with insight into their art."
—
Booklist
"A beautifully designed book that may inspire a whole new generation of artists."
—
The Horn Book
"Visions is an impressive book, well researched and richly illustrated."
—
The Boston Globe
, Masters at Making Art Accessible
"And Leslie Sills, an artist and teacher, has filled the gender void."
—
The New York Times
On The New York Public Library recommended list: One Hundred Titles for Reading and Sharing
An American Library Association Notable Book, 1994
Pick of the Lists,
American Bookseller
, 1993
Editor's Choice — Best Books of 1993,
Booklist
Best Books for 1993 —
School Library Journal
INSPIRATIONS: STORIES ABOUT WOMEN ARTISTS
By Leslie Sills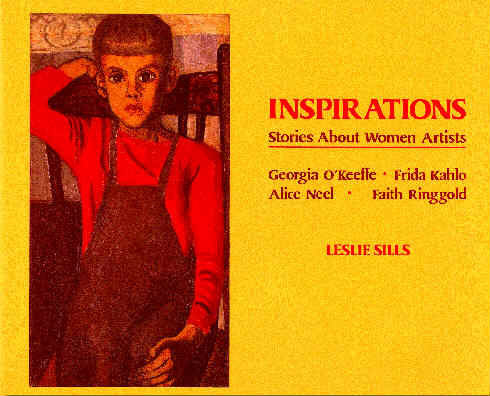 Stories that reveal how Georgia O'Keefe, Frida Kahlo, Alice Neel, and Faith Ringgold persevered to become great artists.

Published by Albert Whitman & Co., 1989

"Here are stories about four 20th century women of great talent. There are photographs of the artists as children and adults, and well chosen examples of their work reproduced in full color."
—
The New York Times Book Review
"I thought this book was very enjoyable as an overview of four women artist's lives·All the artists in this book managed to get through some hardship or tragedy that made them more determined to try to become artists. Their troubles seemed to inspire them in their work. And when you read this book you will be inspired too. These stories show how anyone can reach a goal if they try hard enough. This book makes you realize that you should not listen if anyone tells you that you cannot do something because if you believe them you may not reach your goal. You might miss out on something you really could have accomplished. These four artists never gave up."
— Alexis Elmore, age 8
"This book should be put in the hands of as many young people as possible."
— "Kid's Lit: Art Appreciation",
The San Francisco Review of Books
"Sensitively written, this book is also beautifully designed·this thoughtful volume will also inspire readers, especially girls who may need the reinforcement most."
—
School Library Journal
, Starred Review
"An outstanding celebration of art and artists."
—
Booklist
Starred Review
"...show(s) budding creators how emotions translate into great art."
—
Ms. Magazine
"Sills' book is a rare literary gem."
—
Seattle's Child
On the New York Public Library recommended list:
One Hundred Titles for Reading And Sharing
An American Library Association Notable Book, 1989
Pick of the Lists — American Bookseller, 1989
Editor's Choice — Best Books of 1989
Booklist Best Ten Books for Children in 1989
Parenting Magazine Recommended List: Biographies for Children,
The Boston Globe,
1991